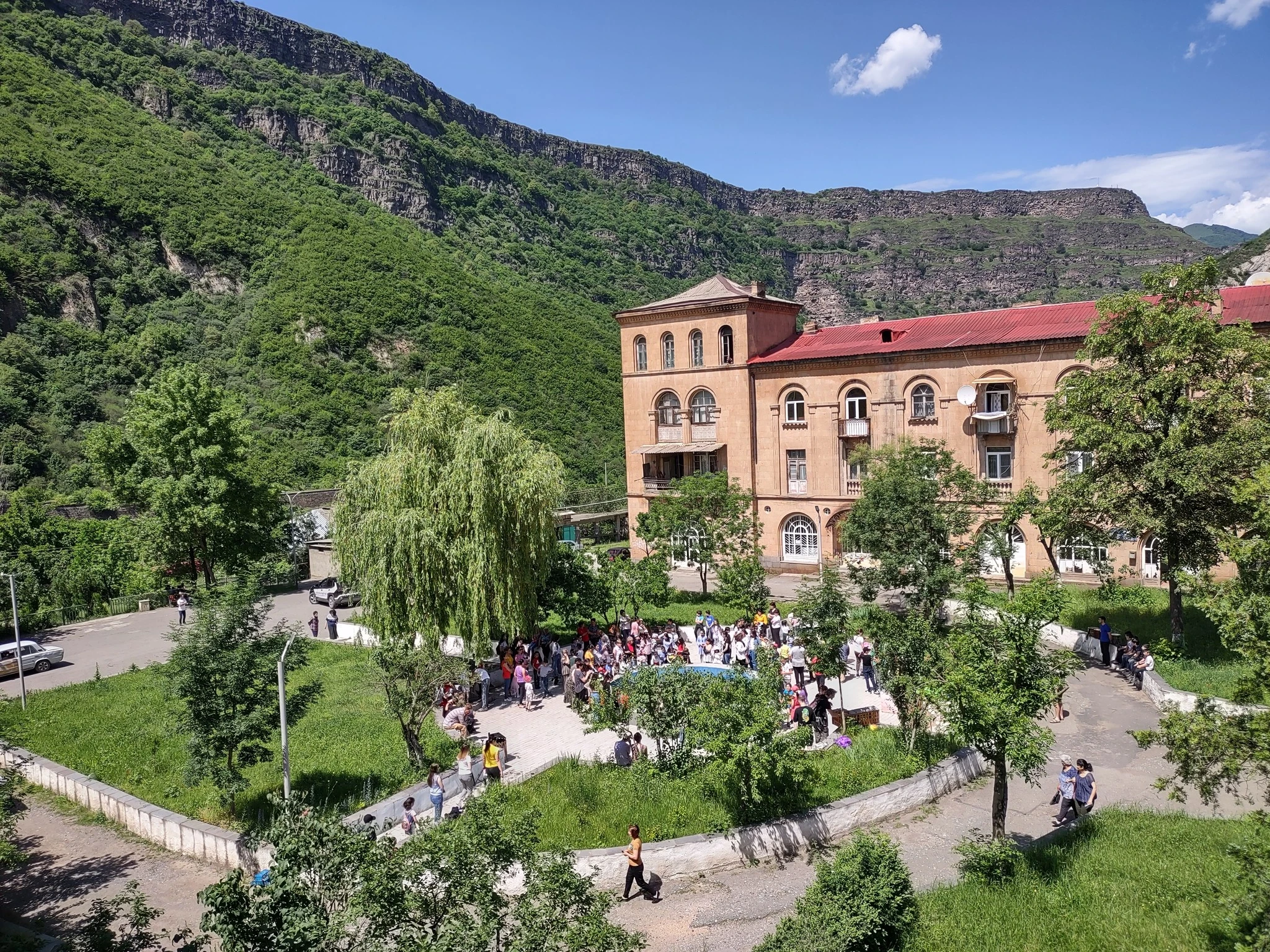 TOWN OF TUMANYAN
We are so excited to be hosting our festival and you in the town of Tumanyan! We chose this location not just because of its apt name, but also for its natural beauty, storied past, and vibrant present.
Nestled in the stunning Debed Canyon, the town of Tumanyan has seen a lot of change over the years. Originally known as Dzaghidzor, it was renamed in 1951 in honor of writer Hovhannes Tumanyan, who hailed from the region. This coincided with the opening of a railway station, which helped it become a Soviet mining and factory town.
Though its population has dwindled since the fall of the Soviet Union, Tumanyan is now entering a new phase of cultural revitalization. The old bathhouse has recently been converted into the Tumanyan Bathhouse Hostel. The old schoolhouse-turned-textile factory, which lay vacant for three decades, is now bustling with activity as an artist community called Abastan. Newcomers in the town's idyllic central square include the Tumanyan Matchbox Label Museum, the Flying Samovar Cafe, and Kaj Nazar grocery store, all social enterprises operated by the Tumanyan Development Foundation.
At the Tumanyan International Storytelling Festival, you'll have a chance to explore the town and be a part of its story.
ACCOMODATIONS
To help you plan your trip, we've gathered a list of places in Debed Canyon and Vanadzor that had availability:
Click here for a more details listing of accomodations that had availability as of the date listed on the doc.
Booking.com has the most extensive list of accomodations in the area, however the availability listed online is not always acccurate. We encourage you to call the hotels and B&Bs directly to inquire about their availability.
A shuttle service will be provided for Festival guests to travel between Dsegh, Debet, Dzoraget and Tumanyan.

* Local shuttle van will not be provided to locations with an asterisk.
+374 77 221838
+374 60 700050
Dsegh
+374 93 908546
taron.ghazaryan.89@mail.ru  
+374 98 727315
+374 33 993939
kaghnihotel@gmail.com
+374 77 906983
kh.syuzan@gmail.com
+374 94 318711
+374 93 900149
tatevbezhanyan@gmail.com
(camping)
+374 91 643317 (Arpine)
Tamara B&B
Հյուրատուն Դսեղում Թամարա
+374 77 835094
+374 91 142001
 +374 93 85 60 74 (whatsapp)
dzoraget@tufenkian.am
Alaverdi*
+374 91 088812 (Irina)
Tumanyan
Qobayr B&B
+374 098 780686
Vanadzor*
+374 91 380305
+374 95 734029 
TRANSPORTATION
Below is a list of our recommended and most direct options for getting to the town of Tumanyan from Yerevan.
The trip duration is about 2 hours and 30 minutes.
Join our Ride Share Telegram Group to offer a ride or requst a ride.
Yerevan to Tumanyan with GG Shuttle:
Reserve your seat on a ggShuttle* for a direct trip to Tumanyan. There will only be one departure time from each point each day.
Price is 2800 AMD for a seat, each way
Yerevan-Tumanyan
Depat from Barekamutyun Metro Station, in front of Tsiran Supermarket
Departure Time: 09:00
Dates: August 25, 26, and 27
Reserve your seat: https://bit.ly/Tmn 
Tumanyan-Yerevan
Departure Time: 21:00
Dates: August 25, 26, and 27
Reserve your seat: https://bit.ly/ToYvn 
*ggShuttle makes it possible to share rides with other passengers, pay much less, and travel on a predetermined route.
Yerevan to Tumanyan with Taxi Services:
There is a shared taxi providing door to door service from Yerevan to Tumanyan (or the reverse) for 2000 AMD. Seats should be booked at least 24 hours in advance. 091-511-811, 096-02-49-49, 077-97-49-49.
Taxis are always an option with your preferred provider. The ride should cost about 15,000-20,000 AMD one way for the ride.
Get to Vanadzor, then connect to Tumanyan:
ggShuttle offers Yerevan-Vanadzor (1000 AMD) and Vanadzor-Yerevan (1000 AMD). Booking is only possible through the App. There are limited departure times. Book in a seat in advance. 
Yev Yev offers a Yerevan-Vanadzor, Vanadzor-Yerevan shuttle service (1500 AMD). Booking a seat is possible through the App or by calling +374 93 110081
Gyumri to Vanadzor Marshurtka service:
Gyumri to Vanadzor (9:00, 14:00, 16:00) - 800 AMD, (ticket is purchased at the Gyumri Central Bus Station - no advanced reservation)
Phone number: 077 448836
Vanadzor to Gyumri (9:30, 11:30) - 800 AMD (ticket is purchased at the Vanadzor Bus Station - no advanced reservation)
Phone number: 094 408233
Vanadzor to Tumanyan:
From Vanadzor you can hire a taxi to take you to Tumanyan for about 4000 AMD or at 14:00 there's a marshutka to Tumanyan from Vanadzor's main bus station (avtokyan) for 500 AMD.
THINGS TO KNOW BEFORE YOU GO
There is no cash machine in Tumanyan and while the local businesses do accept credit cards, they may not always be reliable, so please bring cash with you. 
Programs are all first come, first served. Doors may close at the start of certain programs.
Pets are not allowed at any of the venues.
Some programming is limited to adult audiences only. There may be some dedicated children's programming running simultaneously to offer adults a drop-off option for kids during that hour. Check the program carefully and please reach out to us with questions. 
The town is hilly and festival venues will be at different locations throughout the town. Consider wearing comfortable shoes. 
For additional ideas of what to do during your visit to Debed Canyon, visit: https://visitdebedcanyon.com
Tumanyan International
Storytelling Festival 
© 2022. All rights reserved.